User interfaces¶
Contents:
Log in¶
This button moves you to the "sign in" surface. If you already signed user you can use your own account. If not, you can ask invitation across the "registration" button.
Registration
Lost password
Loged-in surface¶
After login you will see your profile. See details about functions and features in the following link: Profile page
That surface is divided to three main part: Main headline, sub-headline and working surface (see in Fig 1.).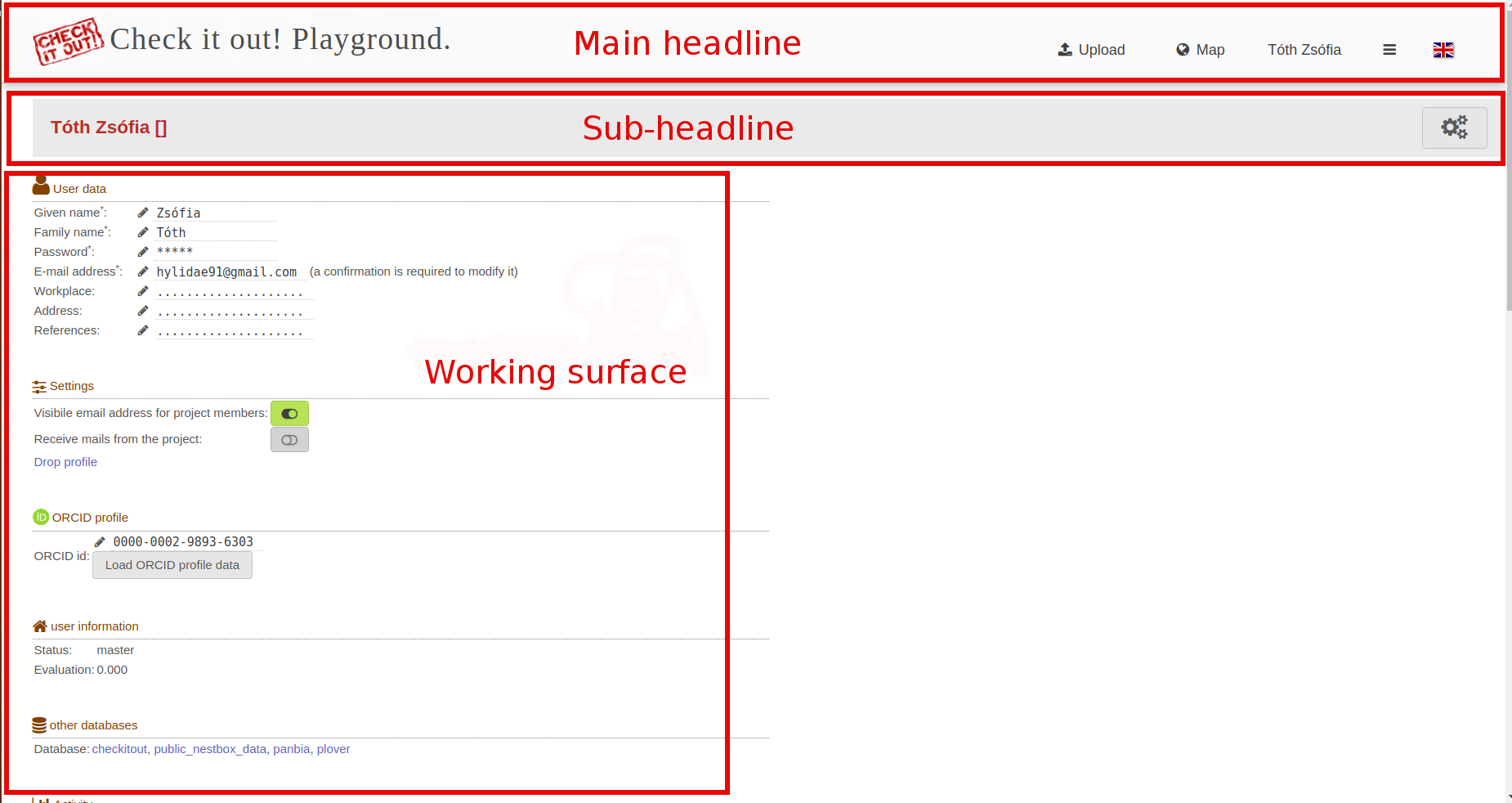 You can see in the sub-headline gear-wheels, if you click on them several button will appear between the main- and sub-headline: Profile, Invites, Project administration, Messages, Founding new project (see in Fig 2.).
Messages tab¶
Message types¶
On this page you can read and write internal messages. Our message system can handle four main message types :
System messages - these are messages sent to individual users from the project or from the server. This type of message can be sent for example by the background validation processes

Personal messages - these are messages sent from users to users. The message composer is accessible by pressing the Compose message button on the bottom left part of the messages page.

Comment notifications - are messages which you receive if one of your data record, uploading or yourself got a comment.

News stream - contains an entry for each upload, if a new project is created, if someone shares a polygon or on comments
Every logged in user can send personal messages to another user.
Project administrators can send messages to users and groups. They can also send an email alert about this message.
User settings¶
Users can tune their e-mail alert preferences for the different message types on the profile page.
Plans¶
email alert daily diegest

replay to messages

replay to comments
Founding new a project tab¶
Section author: Róbert Veres (2016-12-19)